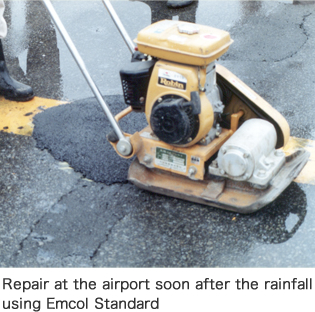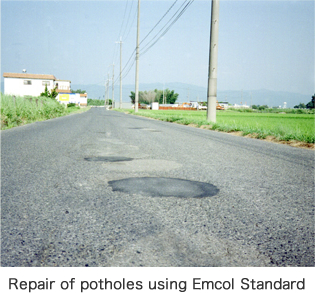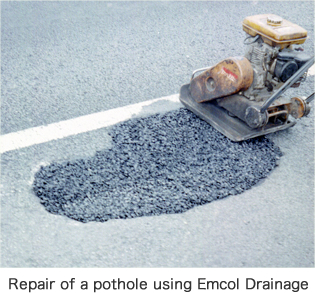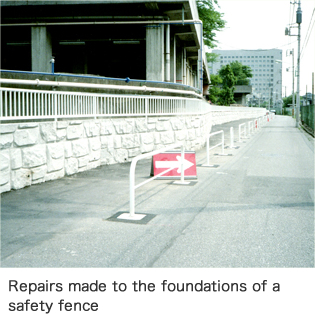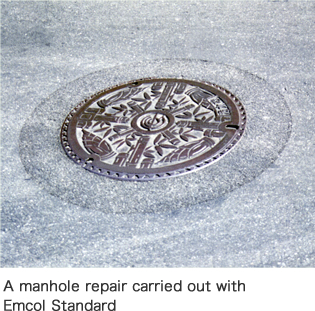 Emcol Standard
Features
Easy Operation
Emcol requires only minimal preparation. There is no need for tack coats, priming or sealants.
All Weather Type
Emcol can be applied in all weather conditions: rain, frost, snow etc.
Early Traffic Opening
Repairs with Emcol are immediately open to traffic.
Rigid Adhesiveness
Emcol has excellent adhesive qualities. It can be used in repairs to asphalt, macadam and concrete and equally abuts well to composite metals i.e. steel.
Emcol is therefore ideal for manhole reinstatements.
Excellent Durability
Emcol has excellent performance characteristics.
It is durable and not prone to shrinking.
The gradings and specifications for the aggregates used minimise the risk of polishing which can lead to skidding.
Safety
Emcol is not flammable and is non-hazardous.
Guidelines for application
Remove any debris and/or water from the repair using a stiff brush.
Fill the repair with Emcol.
(It is important to overfill with Emcol to allow for a level compaction.)
Compact with a vibrating plate, shovel or hand tamper.
In order to prevent tacking, spray a small amount of water on the hand tamper/shovel before compacting the material.
Storage
If stored in sacks, it is recommended that sacks are not piled high on top of one another as this will harden the material contained in the lower piles.
Where Emcol is to be stored for long periods, it is advised that the product be kept out of exposure to the sun.
Shinreki's
Emcol

Cold-Mixed Instant Road Repair

Emcol is a high performance repair compound manufactured by Shinreki under licence from Instarmac Group plc, England. (formerly Emcol International)
Shinreki is proud of Emcol to be the epoch-making road repair product in the age of maintenance.

Emcol has superior performance characteristics compared to other cold mix products.
package
Paper Bag : 30 kg, (25 kg, 20 kg, 15 kg)
Metal Can : 25 kg
*Specially processed paper bags available: high durability, high water-proofing & easy-open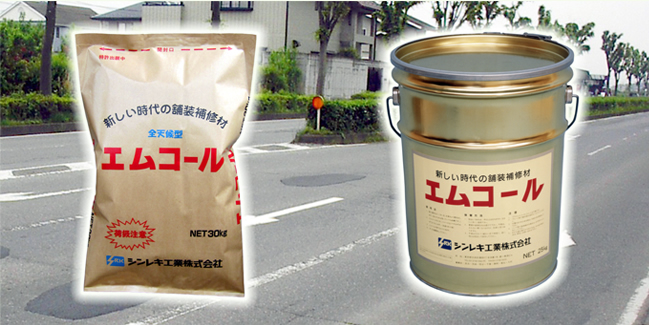 Emcol Line-up
Tentative guideline for use of Emcol
Possible Construction Volume【 Depth and Area(m2) 】
Standard
Fine grade
Drainage
L-Type
1 cm
5 cm
1 cm
5 cm
1 cm
5 cm
1 cm
5 cm
Weight
(Paper Bag / Metal Can)
30 kg
1.50
0.30
1.50
-
-
0.30
1.40
0.28
25 kg
1.25
0.25
1.25
-
-
0.25
1.20
0.24
20 kg
1.00
0.20
1.00
-
-
0.20
0.95
0.19
15 kg
0.75
0.15
0.75
-
-
0.15
0.70
0.14
Examples of quantity guideline
・30 kg and 1cm depth, 1.50 sq meter
・25 kg and 1cm depth, 1.25 sq meter